As a start-up company, you jump into a challenging adventure full of confidence. And the challenges come no matter what. The same applied to Supervers.be, an online grocery shop that delivers fresh local products to people's doorsteps. They soon felt the need to look at their business from a distance to reveal its areas of improvement. Without spending a lot of budget to do so as a small company, they now know how to better understand and serve their consumers thanks to market research and insights.
As an entrepreneur, how often does it happen that operational reality catches up with you? Taking effective steps in your growth process: everyone knows the feeling, but often time is lacking. This was also the case with Supervers.be, a start-up that has been selling artisanal products from Limburg via its online fresh food shop since 2021. Before taking the next step in their growth, they wanted to have the right knowledge from a scientific perspective before taking full-force steps in a certain direction. And this definitely does not require big budgets. On the contrary, through a lean low-cost way, important insights were soon uncovered.
Distance creates proximity for consumers
Supervers.be already has the operational part within its company covered. But sometimes, it is important to look at your own company from a distance. So Supervers.be decided to take a close look at its marketing strategy and align it more closely with consumer needs. The pressing question was: "How can we touch our customers' nerve?".
Using an online qualitative approach, we interacted with current and potential customers to map out the customer journey and define how consumers can be attracted and stay attracted. 
Using the science-based i-Visual analysis model, on the other hand, Supervers' colour identity was scrutinized resulting in clear recommendations to make it more intuitive and powerful.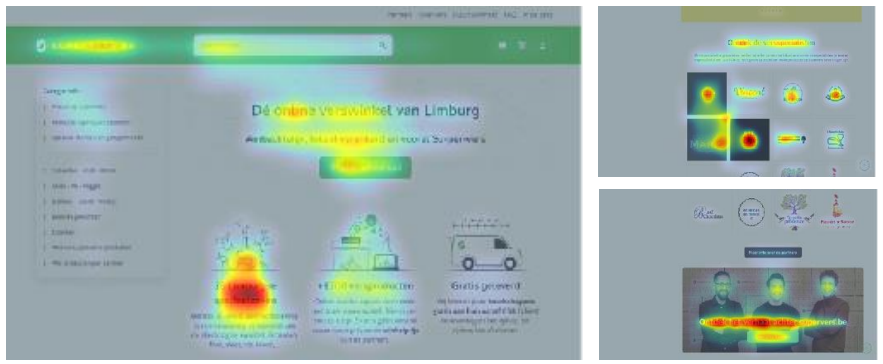 iVisual predictive intelligence. How is the attention divided on the webpage?
Lastly, the impact of the website was analysed through predictive intelligence, a method based on artificial intelligence that predicts where people look at, for how long and in which order. The results led to clear recommendations on the offer, brand identity and experience. Moreover, a new colour palette and a number of mood boards were developed to match Supervers.be's values and the impact it wants to have on their consumer behaviour.
From gut feeling to hard data
These scientific results capture Supervers' areas of improvement. The gut feeling that often causes delays in the decision-making process has now been replaced by clear, objective and numbers-based marketing. Even if some of the findings converge with their gut feeling, thanks to this external objective view a clear consumer-centric direction is now being taken.
To generate impact quickly, they already implemented a number of quick wins, which had an immediate impact on sales. A starting point for a new phase of their business. This research confirms the indispensability of taking a step back from time to time to dare to look at the bigger picture in order to move on to new stages. And so Supervers (literally translated as Super-fresh) is now making time to turn these super-fresh findings into effective actions.
Are you interested to know more about this case study? Are you curious about how One Inch Whale can help identify consumer needs without compromising your own brand identity? Feel free to contact us for an exploratory discussion.

And in the meantime, feel free to order your next local groceries at https://supervers.be/ and enjoy super-fresh products or meals delivered to your door in just a few clicks.